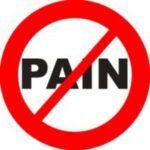 Effective options to treat patients with chronic pain are limited.
Researchers at the University of Toronto reviewed lots of different forms of cannabis.
First, the details.
18 studies were included.
Cannabinoids studied included smoked cannabis, oromucosal extracts of cannabis-based medicine, nabilone (Cesamet), dronabinol (Marinol), and a novel THC analog.
Chronic non-cancer pain conditions included neuropathic pain, fibromyalgia, rheumatoid arthritis, and mixed chronic pain.
Overall, the quality of studies was excellent.
And, the results.
15 of the 18 studies demonstrated a significant pain relieving effect of cannabinoid compared to placebo.
Several reported significant improvements in sleep.
There were no serious adverse effects.
Adverse effects most commonly reported were generally well tolerated, mild to moderate in severity and led to withdrawal from the studies in only a few cases.
The bottom line?
The authors concluded, "Overall, there is evidence that cannabinoids are safe and modestly effective in neuropathic pain with preliminary evidence of efficacy in fibromyalgia and rheumatoid arthritis.
"Modestly effective," but aside from placebo, better than what other therapy?
3/24/11 19:41 JR