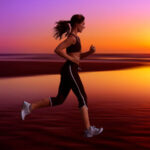 Researchers at the University of Washington Department of Family Medicine, in Tacoma, provide a pity review.
Here's what we know.
Exercise reduces perceived symptoms of depression when used alone.
Exercise relieves symptoms as effectively as cognitive behavioral therapy or pharmacologic anti-depressant therapy and more effectively than bright light therapy.
Resistance exercise and mixed exercise (resistance and aerobic) are better than aerobic exercise alone.
High-frequency exercise is more effective than low-frequency exercise.
"Mindful" exercise, which has a meditative focus, such as tai chi and yoga, also reduces symptoms of depression.
The bottom line?
You should turn off your computer now, and take a walk.
9/25/10 11:14 JR