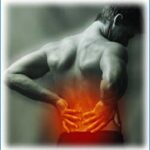 Researchers at Merck in Germany tell us, "Comfrey (Symphytum officinale L.) is a medicinal plant with anti-inflammatory, analgesic, and tissue regenerating properties."
Here are the results of a study in people with acute back pain.
First, the details.
120 adults with upper and lower back pain were assigned to a treatment group for 4 visits over 5 days.

Comfrey root extract ointment administered 3 times daily, 4 grams per application.
Placebo ointment

The source of their pain was not known.
Patients and researchers used the Oswestry disability index to measure the response to treatment.
Neither the patients nor researchers knew the treatment given — double blind.
And, the results.
There was a significant treatment difference between comfrey extract and placebo.
Pain intensity associated with normal movement decreased 95% in the comfrey root group and 38% in the placebo group.
The onset of relief with comfrey root was less than an hour.
Side effects included nausea, cold, eczema, and runny nose in 4 participants given the comfrey root ointment, and headache and itchiness in 3 participants given placebo.
The bottom line?
The onset of response was rapid and significantly greater than placebo.
Comfrey root is considered safe and also reportedly effective for treating ankle sprains and arthritic knee pain. It's recommended when the source of the pain is unknown. In situations where the cause is known, treatment should address the source problem.
Comfrey root ointment is sold in Germany under the name Kytta-Salbe. It's not available in the US.
4/29/10 11:06 JR