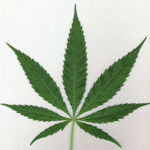 Neuropathic pain is a complex, chronic pain state that usually is accompanied by tissue injury.
Researchers at McGill University, in Montreal, Quebec, report that inhaled medical marijuana is better than no treatment… but not by much.
First, the details.
23 adults with post-traumatic or postsurgical neuropathic pain were randomly assigned to take each treatment in random order — crossover design — for 4, 14-day periods.

Cannabis at 4 potencies (0%, 2.5%, 6% and 9.4% tetrahydrocannabinol)

Participants inhaled a single 25-mg dose through a pipe 3 times daily for the first 5 days in each cycle, followed by a 9-day period of no treatment — washout.
Daily average pain intensity was measured using an 11-point numeric rating scale (0 = no pain to 10 = worst possible pain).
Effects on mood, sleep, and quality of life, as well as adverse events were recorded.
And, the results.
The average daily pain intensity was significantly lower on 9.4% tetrahydrocannabinol cannabis (5.4) than on 0% tetrahydrocannabinol (6.1).
The lower concentrations of tetrahydrocannabinol showed no significant difference vs placebo.
Participants receiving 9.4% tetrahydrocannabinol reported significantly improved ability to fall asleep (easier, faster, more drowsy) and improved quality of sleep relative to 0% tetrahydrocannabinol.
There were no differences in mood or quality of life.
The most common drug-related adverse events with 9.4% tetrahydrocannabinol were headache, dry eyes, burning sensation in areas of neuropathic pain, dizziness, numbness, and cough.
The bottom line?
The authors concluded, "A single inhalation of 25 mg of 9.4% tetrahydrocannabinol herbal cannabis 3 times daily for 5 days reduced the intensity of pain, improved sleep, and was well tolerated."
Really?
Let's compare these results to another study in patients with postherpetic neuralgia, a distressing neuropathic pain condition that substantially reduces the quality of life of sufferers.
Researchers in Europe reported that among the 265 patients, application of a lidocaine patch (Lidoderm) to the painful area resulted in at least a 30% reduction in pain intensity in 40% of patients. In fact, at least a 50% improvement was experienced by 26% of patients.
By comparison, the improvement in pain in the McGill study was less than 1-point on an 11-point scale. Statistically significant, perhaps; but was it clinically significant? Not if you consider there was no change in quality of life.
By comparison, the study of lidocaine patch resulted in improved quality of life.
Let's consider the authors' contention that their patients were unable to tell the difference between smoking a joint vs placebo — especially when the patients were all past marijuana smokers.
This seems unlikely on its face. And indeed, other researchers have reported that it's difficult to conceal pot treatment from patients. In a study of cannabis to treat neuropathic pain in HIV patients, 92% guessed their treatment correctly by the second exposure.
Contrary to the authors' assessment, this study shows that inhalation of cannabis makes a minimal change in pain response and no improvement in mood or quality of life.
And, in order to gain these "benefits," patients must be willing to expose themselves to headache, dry eyes, burning sensation in areas of neuropathic pain, dizziness, numbness, and cough.
As if that's not enough, higher blood levels of delta-9-tetrahydrocannabinol in MS patients who have not be exposed to marijuana is associated with greater interpersonal sensitivity, aggressiveness, and paranoiac features.
9/1/10 19:10 JR