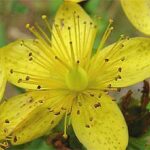 Here's the rationale supporting this study by researchers at the Mayo Clinic, in Rochester, Minnesota.
St. John's wort treats mild-to-moderate depression. Antidepressants are often used to treat irritable bowel syndrome (IBS). But no one has studied the effects of St. John's wort in patients with IBS.
First, the details.
70 patients with IBS were randomly assigned to take either St. John's wort or placebo.

Assignment of treatment was balanced according to symptom subtype: constipation predominant IBS, diarrhea predominant IBS, or mixed IBS.

The primary end point was self-reported overall bowel symptom score at 12 weeks.
The patients and researchers were not aware of the treatment given — double blind.
And, the results.
Both groups reported decreases in overall self-reported bowel symptoms scores, with the placebo group having significantly lower scores at 12 weeks vs St. John's wort.
The placebo group also did better than the St. John's wort-treated patients at week 12 for diarrhea and "adequate relief."
Both groups believed that the drug they received decreased IBS life interferences.
The bottom line?
St. John's wort is less effective than placebo for treating IBS.
1/10/10 20:57 JR