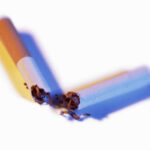 Researchers from the University of Birmingham, in the UK reviewed the evidence that smoking cessation after diagnosis of a primary lung cancer affects patients' outcomes.
First, the details.
In 9 of 10 studies, most patients studied were diagnosed with early stage lung tumor.
And, the results.
Continued smoking was associated with a significantly increased risk of death due to any cause, recurrence of cancer.
No study contained data on the effect of quitting smoking on cancer specific mortality.
The chance of surviving for 5 years in 65-year-old patients with early stage non-small cell lung cancer who continued to smoke was 33% vs 70% in those who quit smoking.
About 29% of continuing smokers would survive 5 years vs 63% of quitters.
The bottom line?
So, the risk of death is lower when people with early lung cancer stop smoking, and most of the benefit from smoking cessation is due to a reduced likelihood of cancer progression.
The authors tell us that their results are preliminary. But based on what they observed they concluded, "These findings indicate that offering smoking cessation treatment to patients presenting with early stage lung cancer may be beneficial."
1/22/10 20:36 JR