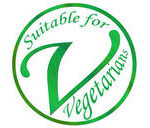 Vegetarian diets exclude fish, the major dietary source of fatty acids, eicosapentaenoic acid (EPA) and docosahexaenoic acid (DHA), which are critical regulators of brain cell structure and function.
Researchers at Arizona State University, in Mesa, examined associations between mood and polyunsaturated fatty acid intake in vegetarian and omnivorous diets.
First, the details.
138 healthy Seventh Day Adventist men and women completed a food frequency questionnaire.
And, the results.
Compared to omnivores, vegetarians reported significantly…

Less negative emotion
Lower intakes of EPA, DHA, and the omega-6 fatty acid, arachidonic acid
Higher intakes of shorter-chain alpha-linolenic acid and linoleic acid
The bottom line?
Participants who matched bullets 2 and 3 had better mood.
The authors concluded, "Vegetarian diet profile does not appear to adversely affect mood despite low intake of long-chain omega-3 fatty acids."
6/3/10 22:01 JR