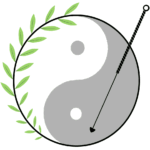 Not according to this study of patients with neck pain, reported by researchers in Italy.
First, the details.
36 patients with neck pain were divided into 2 groups

Acupuncture with 5 needles
Acupuncture with 11 needles

The duration of needle stimulation was the same in both groups: 100 seconds.
Each group underwent 6 cycles of somatic (body) acupuncture.
Pain intensity was evaluated before, immediately after treatment, and 1 and 3 months later using the McGill Pain Questionnaire and the Visual Analogue Scale (VAS).
In both groups, the needles were fixed superficially except for the 2 most painful trigger points where they were deeply inserted.
And, the results.
Both groups obtained a good therapeutic effect without clinically relevant differences.
The bottom line?
The authors concluded that for patients with neck pain, "the number of needles, 5 or 11, seems not to be an important variable in determining the therapeutic effect when the time of stimulation is the same in the 2 groups."
So, it doesn't seem to matter how many needles are used.
It also doesn't seem to matter where the needles are placed.
And, it doesn't seem to matter whether the patient receives acupuncture or sham acupuncture.
Quite literally, it's an embarrassment of riches.
9/16/10 17:18 JR