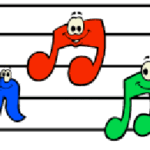 Children with delayed speech development are at risk of acquiring other cognitive (reasoning), social-emotional, and school-related problems.
Researchers in Germany studied the effects of music therapy in these children.
First, the details.
18 children with delayed speech development were assigned to a treatment group.

Individualized music therapy
No treatment Individual music therapy

All participants received each treatment twice, with an interval of about 8 weeks between treatments.
Before and after each period, a speech development test, a non-verbal intelligence test for children, and music therapy assessment scales were used to evaluate speech development.
And, the results.
There was positive development after receiving music therapy.
Both phonological capacity (sounds of speech) and the children's understanding of speech increased under treatment.
There was also improvement in cognitive structures, action patterns, and level of intelligence.
The children, according to the Nordoff-Robbins scales, showed clinically significant changes in client-therapist relationship and communication.
The bottom line?
The authors concluded, "Music therapy may have a measurable effect on the speech development of children through the treatment's interactions with fundamental aspects of speech development, including the ability to form and maintain relationships and prosodic [intonation, pitch, rate, loudness, rhythm, etc] abilities."
It's a small study, but the results suggest that music may have a complementary role in the treatment of children with delayed speech development.
7/29/10 11:30 JR