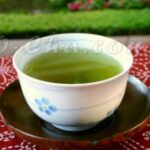 Being overweight after breast cancer treatment may increase a woman's risk for recurrent disease.
Researchers at the University of Arizona, in Tucson found that there are benefits from drinking green tea, but weight loss isn't one of them.
First, the details.
53 female breast cancer survivors were randomly assigned to a treatment group for 6 months.

960 mL (about a quart) of decaffeinated green tea daily
Placebo tea

Participants were obese, with an average weight of 80 kg (176 lb), body mass index (BMI) 30 kg/m2, and body fat 46%.
Changes in weight, body composition, resting metabolic rate, energy intake, blood sugar, insulin, insulin resistance, and cholesterol levels were recorded.
And, the results.
The average intake of green tea was about 6 quarts per week.
There was no difference in weight change between the groups.
Drinking green tea was associated with a significant reduction in energy intake.
Decaffeinated green tea was associated with significantly increased HDL (good) cholesterol levels and improved maintenance of blood sugar levels.
The bottom line?
The authors concluded, "Intake of decaffeinated green tea for 6 months was associated with a slight [not significant] reduction in body weight and improved HDL and glucose homeostasis in overweight breast cancer survivors.
The findings call into question the hypothesis that green tea might lower the risk of cancer recurrence through weight loss.
Looking at the big picture, the association between green tea consumption and the risk of breast cancer or recurrence was the subject of a meta-analysis of 5,617 cases of breast cancer by researchers at Harvard School of Public Health, in Boston, published in January 2010.
They concluded, "Available epidemiologic evidence supports the hypothesis that increased green tea consumption [more than 3 cups a day] may be inversely associated with risk of breast cancer recurrence." In other words, drinking more green tea lowers the risk of breast cancer.
The FDA doesn't agree with this conclusion. In February 2010, the FDA stated in a letter to Dr. Lee's TeaForHealth™ that green tea products may not claim anti-cancer effects, enhanced effects on anticancer drug therapy, or prolonged cancer survival.
In addition, the American Cancer Society tells us, "While the results of laboratory studies have been promising, at this time the available scientific evidence does not support claims that green tea can help prevent or treat any specific type of cancer in humans." It's possible that their website has not been updated since the Arizona study was published.
8/31/10 14:38 JR