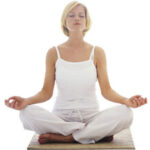 Researchers at KhonKaen University, in KhonKaen, Thailand reviewed the evidence for this Cochrane report on attention-deficit/hyperactivity disorder (ADHD).
First, the details.
4 studies, including 83 participants, were included.

2 studies used mantra meditation while the other 2 used yoga.
Comparisons were made to drugs, relaxation training, non-specific exercises, and standard treatment control.

Design limitations in the studies caused a high risk of bias.
And, the results.
Only 1 study provided data appropriate for analysis, and reported no statistically significant difference between meditation and drug therapy on the teacher rating ADHD scale.
Likewise, there were no significant differences between meditation therapy and standard therapy in the distraction test or teacher rating ADHD scale.
Adverse effects of meditation have not been reported.
The bottom line?
There's no shortage of websites that anecdotally report the benefits of meditation to treat ADHD.
However, based on a limited number of studies that are compromised by a high risk of bias and conducted in a small number or patients, these authors concluded, "More trials are needed" before meditation is considered an evidence-based option for treating ADHD.
6/18/10 19:16 JR