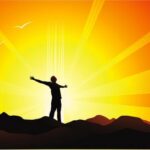 Researchers at the University of Colorado at Boulder studied whether religiosity moderated the genetic variance associated with problem alcohol use during adolescence and early adulthood.
Religiosity is the degree to which a person believes in and is involved in religion.
Now, the details.
1,432 twin pairs (monozygotic [MZ] and dizygotic [DZ] twins) were studied.

MZ twins (including identical twins) originated from the same fertilized egg, and therefore have the same DNA.
The more common DZ twins begin as 2 eggs separately fertilized by 2 sperm, and do not share the exact same DNA.

Religiosity was measured.
And, the results.
In adolescence, increasing levels of religiosity in both men and women was able to overcome the genetic make-up that predisposes to problem alcohol use
In early adulthood, religiosity did not have this effect.
The bottom line?
The authors concluded, "Genetic factors could influence problem alcohol use more in nonreligious adolescents than adolescents with a greater religious outlook."
"Adolescents who are raised to value religious concepts are less likely to develop problems with alcohol use, even in the presence of a genetic predisposition for doing so."
Others have reported the benefits of religiosity with respect to substance abuse. The genetics factor in this study is the new angle.
6/23/10 20:18 JR