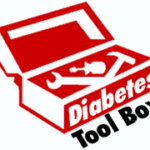 Researchers at Thames Valley University, in London, studied the blood sugar lowering effect of taking 2 grams of cinnamon daily in adult patients with type 2 diabetes.
A1c is used to monitor the long term control of blood sugar levels.
First, the details.
58 adults with type 2 diabetes treated only with anti-diabetes drugs and with an A1c more than 7% (a sign of poor control) were randomly assigned to a treatment group for 12 weeks.

2 grams of cinnamon daily
Placebo
And, the results.
After taking cinnamon, the average A1c significantly decreased from 8.22% to 7.86% vs placebo (8.55% to 8.68%).
Average systolic and diastolic blood pressures were also significantly reduced after 12 weeks in the cinnamon group vs placebo.
Significant reductions in fasting blood sugar levels, waist circumference, and body mass index (BMI) were observed at week 12 compared to the start of the study in the cinnamon group.

However, the changes were not significant compared to placebo.

There were no significant differences in total cholesterol, triglycerides, HDL (good) and LDL (bad) cholesterol between or within the groups.
The bottom line?
The authors concluded, "Intake of 2 grams of cinnamon for 12 weeks significantly reduces the A1c, systolic and diastolic blood pressure among poorly controlled type 2 diabetes patients."
They believe, "Cinnamon supplementation could be considered as an additional dietary supplement option to regulate blood glucose and blood pressure levels along with conventional medications to treat type 2 diabetes mellitus."
A recent review reported that animal data provide support for cinnamon in the management of diabetes. However, studies tend to include few patients with contradictory results.
One of the larger positive studies is summarized here.
12/14/10 12:09 JR