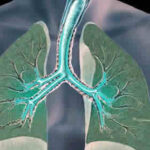 Researchers at the National Jewish Health, in Denver, Colorado are the first to report that children with asthma benefit from art therapy.
First, the details.
22 children with asthma were randomly assigned to a treatment group for 7 weeks.

Art therapy 60 minutes a week, with tasks designed to encourage expression, discussion, and problem solving in response to the emotional burden of chronic illness
Wait-list control group

Participants were evaluated before, after, and 6 months after the final art therapy session using the Formal Elements Art Therapy Scale (FEATS) parent and child versions of the Pediatric Quality of Life Asthma Module, and the Beck Youth Inventories (BYI).

FEATS focuses on the process of drawing, rather than the resulting content of the drawing.
BYI screens for children who are distressed.
And, the results.
Relative to the control group, at completion of art therapy the art group exhibited improved…

Problem solving and affect drawing scores
Worry, communication, and total quality of life scores
Beck anxiety and self concept scores

At 6 months, the active group maintained some positive changes relative to the control group.

Drawing affect scores
Worry and quality of life scores
Beck anxiety score.

Frequency of asthma exacerbations before and after the 6-month study interval did not differ between groups.
The bottom line?
The authors concluded, "Children with asthma receive benefit from art therapy that includes decreased anxiety and increased quality of life."
It's not a substitute for taking anti-asthma drugs, however.
5/20/10 22:48 JR