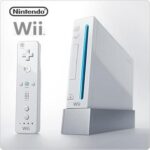 The AHA logo will soon appear on the Nintendo Wii video gaming system.
"We have to engage consumers and citizens and the public where they are," says Dr. Clyde Yancy, president of the American Heart Association (AHA). "The burden of heart disease and stroke is too much."
But will the Wii really make a difference in heart health?
"The evidence is really inconclusive," said Dr. Janet Fulton, an epidemiologist with the US Centers for Disease Control and Prevention. "The amount of activity one achieves from this active gaming is really inconclusive in terms of its benefits on health."
"I believe," said Dr Fulton in a MedPage Today interview, "only boxing kind of hit the mark in terms of being of moderate intensity."
Researchers at the University of Oklahoma Health Sciences Center, in Oklahoma City found that the energy expenditure with Wii boxing was comparable to moderate-intensity walking.
The bottom line?
Video gaming is no substitute for real sports and activities.
AHA claims the logo isn't for sale. However, Nintendo provided a $1.5 million gift over 3 years for exclusive relationship.
Considering there's no evidence to support the cardiovascular benefits of Wii as measured by blood pressure, cholesterol, or blood sugar control; weight reduction; or reduced risk of heart attack, stroke, or cardiovascular-related death, it seems that AHA sold out cheap.
Nintendo expects to sell 18 million units in 2010 at a little more than $150 each. You do the math.
For a half million dollars per year, Nintendo bought the AHA seal of approval to promote a sedentary game, boxing not withstanding.
And don't forget, Wii comes with a warning: "WARNING — Repetitive Motion Injuries and Eyestrain. Playing video games can make your muscles, joints, skin or eyes hurt."
Since this post, another study reported improved balance skills in subjects with multiple sclerosis.
5/18/10 17:41 JR; updated 11/28/10 20:11 JR