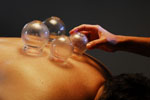 Prof. Ernst reviewed cupping, an Ancient Chinese practice of placing cups on the skin and applying heat or suction so that skin and superficial muscles are stimulated and drawn into the cup.
Here's a summary of the first systematic review of this topic.
First, the details.
Among 43 potentially relevant articles 5 studies met the inclusion criteria.
Cupping was compared to acupuncture, electro-acupuncture, and warm needling.
And, the results.
Some superior effects of cupping vs acupuncture were reported in 2 studies of patients with hemiplegic shoulder pain and high upper-limb muscle strength after stroke.
Another study showed no difference with cupping vs acupuncture and warm needling in patients with hemiplegic hand edema.
2 observational studies reported favorable effects of cupping on aphasia (inability to articulate ideas or comprehend language) and intractable hiccup after stroke.
The bottom line?
Prof. Ernst and colleagues concluded, "There are not enough trials to provide evidence for the effectiveness of cupping for stroke rehabilitation, because most… compared the effects with unproven evidence and were not informative."
As if that's not enough, earlier this year a patient in the UK reportedly developed hemorrhagic stroke after cupping.
10/3/10 21:43 JR