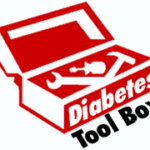 It's an effective option, according to researchers in the US.
First, the details.
526 members of Medicare Advantage were randomly assigned to a treatment group and studied for 2 years.

Telephonic diabetes disease management
Usual care

Medicare Advantage is healthcare insurance for the elderly through insurance companies rather than the government.
These were high-risk and high-cost patients with diabetes and coronary artery disease.
Hospital admissions for any cause, diabetes-related hospital admissions,  diabetes-related emergency department visits, as well as emergency visits for any reason, and overall medical costs were recorded.
The patients in the telephone group also recorded changes in their disease.
And, the results.
Patients receiving telephonic diabetes disease management had significantly decreased hospital admissions for any cause and for diabetes-related  admissions.
Emergency department visits didn't differ between groups.
The telephonic group decreased their total medical costs by $98 per member per year compared with a $4547 increase in the comparison group — a significant difference.
The patients in the telephonic group reported that all areas of their condition significantly improved.
The bottom line?
The authors concluded, "A disease management program for high-risk patients with diabetes and coronary artery disease was effective in reducing hospital inpatient admission and total costs in a Medicare Advantage population."
There's a growing body of research supporting the use of electronic media to improve healthcare.
Researchers in Florida reported increased frequency of exercise and feet inspection, improved diet, reduced diabetes medical symptoms, and lowered depressive symptoms.
Also in Florida, among 5 children who completed the study, "most of the children improved their metabolic control and all five subjects showed reduced A1c levels during 3 months of study.
Others have reported success using the Internet in addition to usual patient care.
9/19/10 19:43 JR