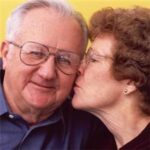 Researchers at INSERM (Institut National de la Santé et de la Recherche Medicale), in Montpellier, France, tell us lifestyle changes can more than offset the risk posed by genetics, which, of course, can't be changed.
First, the details.
1433 elderly people with mild cognitive (reasoning) impairment or dementia established by a standardized neurological examination were included in the study.
Cox models were used to identify risk factors for dementia.

Cox regression is a statistical technique that determines the relationship between survival and independent variables.
And, the results.
Elimination of the ApoE 4 gene from the general population would lead only to a 7% reduction in the number of cases of mild cognitive impairment or dementia over the next 7 years.

This gene is associated with the risk of late-onset Alzheimer's disease.
Of course, genetic modification isn't feasible.

Increasing Neale adult reading test scores lead to an 18% reduction in incidence of mild cognitive impairment or dementia.

Neale Analysis of Reading is a standardized reading test that provides measures of reading rate, accuracy, and comprehension.

Eliminating depression and diabetes and increasing fruit and vegetable consumption were estimated to lead to an overall 21% reduction in incidence of dementia.

Of these, depression makes the greatest contribution, leading to a10% reduction in the number of new cases over 7 years.
The relation between depression and dementia is unclear.

Depression may be an early sign of dementia, such that treatment may not prevent dementia.
On the other hand, previous research suggests its elimination can at least slow the rate of functional loss.
And, the results.
Among all of these factors, the authors concluded, "Diabetes, or perhaps more specifically insulin resistance, stands for the moment as the primary target given that causality has been more clearly established than for the other factors highlighted in this analysis."
9/9/10 21:14 JR