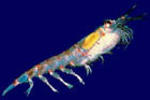 In this study, researchers at the University of Montreal, in Quebec, evaluated the response to alternative sources of omega-3 fatty acids (krill vs fish) in women with premenstrual syndrome.
A reader comments, and I reply. So, it's back to the top of the queue for this post.
First, the details.
70 women of reproductive age diagnosed with premenstrual syndrome were randomly assigned to a treatment group for 3 months.

Krill oil (Neptune) 1 gram soft gel
Fish oil 1 gram soft gel

During the study, the women answered questions (0 = no symptoms to 10 = unbearable) based on the American College of Obstetricians and Gynecologists (ACOG) diagnostic criteria for premenstrual syndrome and dysmenorrhea.
The women also recorded the number of pain pills they took for dysmenorrhea.
Neither the patients nor researchers knew the treatment given — double blind.
And, the results.
Taking krill oil was associated with significant symptomatic improvement compared to the fish oil group.
Taking krill oil was associated with significant improvement in all of the symptoms measured at 45 and 90 days after starting treatment.

Breast tenderness
Overwhelmed
Stress
Irritability
Depression
Joint pain
Weight gain
Stomach pain
Swelling
Bloating

Taking fish oil was associated with significant improvement in the following symptoms.

Weight gain (at 45 and 90 days after starting treatment)
Stomach pain (at 45 and 90 days)
Swelling (at 90 days)
There was a significant reduction in the number of pain pills used for dysmenorrhea in both groups compared to the start of the study.

There was no difference between treatments, however.

No serious side effects were reported during the study.
Patients taking krill oil didn't experience gastrointestinal difficulties such as regurgitation, while 64% of the women taking fish oil complained of unpleasant reflux.
Those taking krill oil reported increased alertness, energy, and well-being.
The bottom line?
The authors concluded that compared to omega-3 in fish oil, the omega-3 in this brand of krill oil, "significantly reduce[s] dysmenorrhea and the emotional symptoms of premenstrual syndrome, and is… significantly more effective for the complete management of premenstrual symptoms compared to omega-3 fish oil."
Krill is similar to fish oil except that it contains naturally occurring phospholipids, and more eicosapentaenoic acid (EPA) per gram than standard fish oil capsules — 240 mg/gram EPA in krill vs.180 mg/gram in fish oil.
EPA is one of the principal omega-3 fatty acids. Yet, the body has a limited ability to manufacture it.
8/29/10 14:25 JR