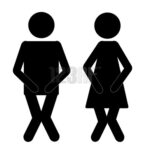 It's a rare condition in which urination occurs during laughing. Researchers from North Shore-Long Island Jewish Health System, in New York studied the value of biofeedback in a small group of children.
First, the details.
The medical records of 12 children with giggle incontinence were reviewed for incontinence severity, voiding patterns, associated symptoms, and medical history including prior treatment.
They were taught Kegel (KAY-gul or KEY-gul) exercises and instructed to perform them at home between sessions.
And, the results.
1 child had a partial response to first line therapy with timed voiding and bowel management.
7 children were treated with anticholinergic drugs and/or pseudoephedrine with a partial response in 3.
The 9 children with giggle incontinence that didn't respond to therapy underwent biofeedback for 2 to 8 sessions.
The 6 patients who underwent 4 or more sessions had a full response that lasted at least 6 months, and the 3 with fewer than 4 sessions had a partial response.
The bottom line?
In this study, treatment with education and drugs only led to a partial response in some cases. Biofeedback supplemented this treatment or avoided adding drugs when at least 4 sessions were performed.
The authors concluded, "Biofeedback therapy should be incorporated in the treatment algorithm for giggle incontinence in children, and it should be considered before pharmacotherapy."
It's a rare condition with few studies.
Last year, researchers from Poland reported that based on their experience in 1 child with giggle incontinence, "Pelvic muscle exercises with biofeedback technique are a promising additional mode of treatment for children with voiding disorders."
Researchers in Spain have reported that in a group of 34 children that included 3 with giggle incontinence, pelvic floor muscles training with biofeedback is a simple and effective method… [and] should be used… [with] other therapies.
11/1/09 20:31 JR