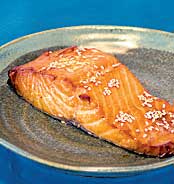 Researchers from the University of California, San Francisco report that omega-3 protects against advanced prostate coancer.
And there's a COX-2 genetic connection.
First, the details.
466 men with aggressive prostate cancer were compared to 478 age- and ethnicity-matched controls.
Diet was assessed using a food frequency questionnaire.
DNA was assessed to identify a COX-2 genetic connection.
And, the results.
Increasing intake of omega-3 fatty acids was significantly associated with a decreased risk of aggressive prostate cancer.
The protective effect was even stronger in men who carried the COX-2 rs4647310 gene — a risk factor for prostate cancer.
The bottom line?
The authors concluded, "Dietary long chain omega-3 polyunsaturated fatty acids appear protective for aggressive prostate cancer."
In addition, the increased risk of prostate cancer associated with the COX-2 rs4647310 gene was "essentially reversed by increasing omega-3 fatty acid intake by a half a gram per day," Dr. John Witte said in a Medscape interview.
A recent review nutrition and prostate cancer concurs regarding the benefits of omega-3 as it relates to prostate cancer risk. Now, we have data on the risk of advanced prostate cancer.
3/27/09 20:01 JR