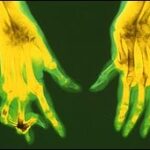 Researchers at Victoria University, in Melbourne, Australia reviewed the evidence.
But not everyone agrees with their conclusions.
First, the details.
20 studies of 14 herbal medicines were reviewed.
Data from 7 studies of oils from borage, blackcurrant, and evening primrose containing gamma linolenic acid were used in a meta-analysis.
And, the results.
Gamma linolenic acid

1400 mg/day or higher showed benefit in alleviating rheumatic complaints,
Lower doses (approximately 500 mg) were ineffective.

Tripterygium wilfordii (thunder god vine)

3 studies vs placebo showed favorable results.
Serious side effects occurred in 1 study.
In a follow-up study, all side effects were mild to moderate and resolved after treatment stopped, but time to resolution was variable.

Phytodolor N (a standardized extract of populus tremula)

2 studies vs placebo were of limited use because of poor study design.

Other herbals

Evidence of effectiveness was insufficient to recommend or discourage their use.
The bottom line?
The evidence among herbals favors gamma linolenic acid or Tripterygium wilfordii extract. The science doesn't support other herbals, according to the authors.
Another broader review of herbals for arthritis and musculoskeletal conditions was published several months ago.
A complete review of Phytodolor by Prof. Ernst is here and here. He concluded, it "is effective treatment for musculoskeletal pain."
11/27/09 20:05 JR