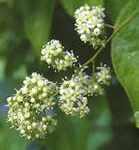 In this study by researchers in the US and the Netherlands it was better than sulfasalazine (Azulfidine).
Thunder god vine (Tripterygium wilfordii Hook F; TWHF) has been used in China for centuries to treat a spectrum of inflammatory diseases.
First, the details.
121 patients with active rheumatoid arthritis and at least 6 or more painful and swollen joints were randomly assigned to a treatment group.

TwHF extract, 60 mg 3 times daily
Sulfasalazine 1 gram twice daily

Patients were permitted to continue stable doses of oral prednisone or nonsteroidal anti-inflammatory drugs (NSAIDs) but had to stop taking disease-modifying antirheumatic drugs at least 28 days before starting one of the treatments.
The main outcome was the rate of achievement of 20% improvement in the American College of Rheumatology criteria (ACR 20) at 24 weeks.

ACR 20 is a 20% improvement in tender and swollen joint counts and 20% improvement in 3 of the 5 remaining measures: patient and physician global assessments, pain, disability, and an acute phase reactant (ie, proteins whose blood levels increase during acute inflammation).
And, the results.
Only 62% of patients completed TwHF treatment, and only 41% completed treatment with sulfasalazine.
65% of the TwHF group and 33% of the sulfasalazine group met the ACR 20 response criteria — a significant difference.
Patients taking TwHF also showed 50% improvement and 70% improvement (ACR 50 and ACR 70).
For those who completed the study, there was significant improvement in the Health Assessment Questionnaire disability score.
Interleukin-6 (also involved in inflammation) levels rapidly and significantly decreased in the TwHF group.
The frequency of adverse events was similar in both groups.
The bottom line?
"Attainment of the ACR 20 response criteria was significantly greater with TwHF extract than with sulfasalazine," concluded the authors.
The biggest challenge seems to be in sticking to treatment.
9/19/09 22:22 JR