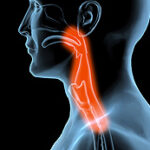 It's an exercise-based treatment developed at the University of Florida for swallowing disorders (dysphagia).
Results at that institution are reported here.
First, the details.
24 patients with dysphagia were matched to 2 separate control groups for age, gender, and primary medical diagnosis.
The patients with dysphagia who entered the McNeill Dysphagia Therapy Program came from September 2006 to October 2008 records.
Those in the control group had entered a traditional swallowing therapy program augmented with surface electromyography biofeedback (traditional therapy + biofeedback group) between February 1994 and June 1999.
The proportion of patients who improved clinical swallowing ability and functional oral intake was recorded.
In addition, the presence (or not) of a tube feeding, physiologic change on instrumental swallowing studies, and occurrence of aspiration on post-treatment were assessed.
And, the results.
The McNeill dysphagia therapy patients were significantly more likely to demonstrate dysphagia recovery post-treatment.
Dysphagia was reduced by 69% in the McNeill Dysphagia Therapy Program group compared with traditional therapy + biofeedback.
The bottom line?
In this first published study of the McNeill Dysphagia Therapy Program, both approaches tested facilitated improved swallowing function.
However, the authors concluded, "the McNeill Dysphagia Therapy Program resulted in superior outcomes compared with traditional dysphasia therapy supplemented with surface electromyography biofeedback."
The abstract doesn't tell us the etiologies of dysphagia in these patients. Dysphagia can be caused by diseases of the central nervous system, a stroke or head injury, infection, or irritation that narrows the esophagus. People are also born with abnormalities of the swallowing mechanism, and dysphagia can be the result of conditions such as cleft palate, various cancers of the head and encephalitis of the brain.
Also, it seems like a small group of patients for a center that specializes in dysphagia therapy to collect over 2 years.
And the rationale for comparing outcomes to patients treated 10 years earlier is unclear. One would assume even "standard" therapy changed and improved over that time.
5/4/10 21:05 JR