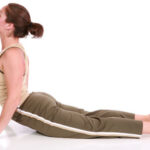 Researchers at Ege University, in Izmir, Turkey studied the impact of Pilates exercises on physical performance, flexibility, fatigue, depression, and quality of life in women treated for breast cancer.
First, the details.
52 patients with breast cancer were randomly assigned to a treatment group.

Pilates 3 times a week for 8 weeks in the rehabilitation unit + home exercises
Home exercises only

Changes in 6-minute walk test (6MWT; how far you walk in 6 minutes), modified sit and reach test, Brief Fatigue Inventory, Beck Depression Index, and the European Organisation for Research and Treatment of Cancer Quality of Life C30, and EORTC QLQ BR23 (23 breast cancer-specific questions on the side effects of therapy, body image, sexuality and outlook for the future.
And, the results.
After the program, improvements were observed in the Pilates + home exercise group in 6MWT, depression, and both quality of life scores.
There was no significant improvement with exercise alone.
When the 2 exercise groups were compared, there were significant differences in 6MWT in the Pilates + exercise group.
The bottom line?
The results provide a rationale for including Pilates in an exercise program for breast cancer patients in order to improve their function, fatigue, depression, and quality of life.
These results build on an earlier preliminary report of 4 patients.
5/11/10 11:25 JR