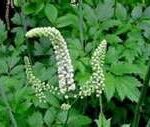 Researchers from Johann Wolfgang Goethe University of Frankfurt/Main, in Hanau, Germany, reviewed the evidence and believe the risk is less than suspected.
First, the details.
69 reports of liver disease suspected to be caused by black cohosh (aka Actaea racemosa and Cimicifuga racemosa) were reviewed and analyzed.
The sources of the reports were 11 published case reports and 58 spontaneous reports to national regulatory agencies.
And, the results.
Re-evaluation raised serious doubts about the ability of black cohosh to cause liver disease.
The reports that served as the sources of the reaction were of poor quality.
There were major inconsistencies for the same patient regarding reported data.
All cases had confounding variables such as…

Quality of reported data
Uncertainty of the black cohosh product, quality, and identification
Undisclosed indication for it's use
Insufficient adverse event definition
Lack of temporal association and dechallenge (did the reaction resolve when black cohosh was discontinued?)
Missing or inadequate evaluation of alcohol use or the presence of other drugs and diseases
Failure to re-exposure test to black cohosh, and alternative cause of the patient's condition
The bottom line?
The authors concluded, "The presented data do not support the concept of hepatotoxicity in a primarily suspected causal relationship to the use of black cohosh."
In other words, conclusive proof of a cause and effect relationship between black cohosh and liver toxicity is not available.
"Nonetheless," MayoClinic.com advises, "Patients with liver disease should consult a licensed healthcare professional before using black cohosh."
4/17/10 20:15 JR