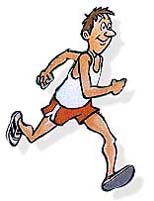 Abe Gubegna the Ethiopian novelist wrote, "It doesn't matter whether you are a lion or a gazelle. When the sun comes up, you better be running."
Now, researchers from California and Germany report that in patients with heart disease, there's an increased risk of heart-related complications in people who are physically inactive as a result of being depressed.
First, the details.
1017 people with stable coronary heart disease were followed for almost 5 years.
Symptoms of depression were recorded using the Patient Health Questionnaire (PHQ).
The patients also answered questions about physical exercise in the past month, including sports.
The researchers looked for differences in cardiovascular events such as heart attack, stroke, or death due to cardiovascular complications.
And, the results.
The annual rate of cardiovascular events was 10% among participants with depressive symptoms vs 7% in those without depressive symptoms — a significant difference.
After adjusting for the presence of other conditions and disease severity, depressive symptoms were associated with a significant 31% higher rate of cardiovascular events.
Lack of physical activity, as well as not taking medications according to schedule and smoking accounted for the differences between groups.
The bottom line?
Lead author, Dr. Mary Whooley concluded, "In this sample of outpatients with coronary heart disease, the association between depressive symptoms and adverse cardiovascular events was largely explained by behavioral factors, particularly physical inactivity."
Some of the physiological benefits of exercise in people with heart disease are summarized here.
11/27/08 11:08 JR