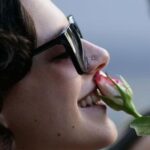 Researchers from the University of Cologne Medical Center, in Germany, evaluated the effects of traditional Chinese acupuncture in patients with persistent olfactory dysfunction following a viral infection.
First, the details.
15 patients with persistent post-viral olfactory dysfunction were treated by acupuncture in 10 weekly, 30-minute sessions.
The results were compared to another group treated with vitamin B complex over 12 weeks.
Subjective olfactometry (measure of smell) was performed using the Sniffin' Sticks test.

Treatment success was defined as an increase in Sniffin' Sticks test scores of at least 6 points.
And, the results.
8 patients treated with acupuncture had improved olfactory function.
2 treated with vitamin B complex improved — a statistically significant difference.
The bottom line?
The authors concluded, "Traditional Chinese acupuncture possibly offers a new therapeutic regimen for post-viral dysosmia [a disorder in the sense of smell]."
Considering the small number of patients studied, they rightfully caution, "More research in a larger case series is needed before a clearer picture will emerge."
Another group of researchers from Ludwig-Maximilians-University Munich, in Germany studied laserneedle acupuncture in 64 healthy volunteers and concluded, "Laserneedle acupuncture is an effective method to improve olfactory sensitivity after one session of stimulation for at least one hour."
Olfactory dysfunction reportedly affects more than 200,000 patients a year in the US. In Germany, about 79,000 patients per hear are treated, with most (72%) due to conditions that affect the sinuses and nasal passages.
4/4/10 14:52 JR