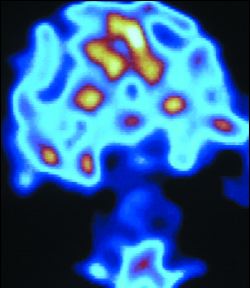 Infantile spasm (West Syndrome) is a specific type of seizure in infants and early childhood. The ketogenic diet is a high fat, adequate protein, low carbohydrate diet.
Researchers from the John M. Freeman Pediatric Epilepsy Center at Johns Hopkins Medical Institutes in Baltimore, Maryland — the leader in this form of treatment in infants — report their experience over 12 years.
First, the details.
The records of all 33 infants started on the ketogenic diet or treated with high-dose ACTH (adrenocorticotropic hormone, the usual treatment) for new-onset infantile spasms at their hospital since 1996 were reviewed.
And, the results.
8 of 13 (62%) infants treated with the ketogenic diet were spasm free within 1 month, vs 18 of 20 (90%) treated with ACTH — a significant difference.
When effective, the time to become spasm-free was similar between ACTH and the ketogenic diet (4 vs 7 days).
Those treated with ACTH were significantly more likely to have a normal EEG (electroencephalogram) tracing at 1 month (53% vs 9%).
However, the ketogenic diet led to a normal EEG within 2 to 5 months in all 8 who became spasm-free.
In the 5 children where ketogenic diet was unsuccessful, 4 became spasm-free with subsequent ACTH or topiramate (Topamax) treatment.
Side effects (31% vs 80%) and relapse rate after initial success (13% vs 33%) were significantly lower with the ketogenic diet vs ACTH.
The bottom line?
The authors concluded, "The ketogenic diet stopped spasms in nearly two-thirds of cases, and had fewer side effects and relapses than ACTH."
The ketogenic diet has been used for more than 80 years; yet it's unclear which patients are most likely to benefit. There's a pressing need for research designed to develop criteria for selecting among treatment options.
As anyone who has tried the Atkins diet knows, another challenge with the ketogenic diet is maintaining long-term adherence to a high fat diet. Researchers from Yonsei University College of Medicine in Seoul, Korea compared ketogenic diets with different lipid:nonlipid ratios and reported that a 3:1 ratio maintains anti-seizure effectiveness and is better tolerated than a 4:1 ratio.
9/20/08 18:10 JR