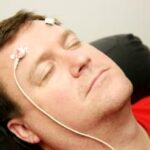 EEG biofeedback and hemoencephalography biofeedback were combined with thermal hand warming biofeedback to treat migraineurs.
Hemoencephalography biofeedback differs from biofeedback to brainwave (EEG) neurofeedback. Hemoencephalography training feeds back changes in the brain's energy consumption (which is related to blood flow, oxygen, nutrient, glucose supply). The objective is to boost blood flow activity to the brain to improve mental and emotional functioning.
First, the details.
37 migraine patients underwent an average of 40 neurofeedback sessions combined with thermal biofeedback.
All patients were taking at least one medication for migraine.
Treatments were conducted an average of 3 times weekly over an average of 6 months.
Headache diaries were examined after treatment and a formal interview was conducted.
The patients were interviewed after an average of 14.5 months after treatment to record the duration of treatment effects.
And, the results.
70% of patients experienced at least a 50% reduction in the frequency of their headaches.
The improvement was sustained on average 14.5 months after treatments were discontinued.
The bottom line?
The authors concluded that combined neuro and biofeedback reduced the frequency of migraines in patients taking medication compared with taking medications alone.
3/9/10 20:32 JR