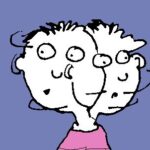 Researchers from Duke University Hospital, in Durham, North Carolina found positive effects in children with attention-deficit/hyperactivity disorder (ADHD).
First, the details.
20 studies, reviews, and letters were evaluated.
Studies included children 6-14 years old.
Melatonin doses ranged from 3 to 6 mg administered within a few hours of a scheduled bedtime.
And, the results.
In 4 studies in children with ADHD and insomnia, faster sleep onset and sleep latency (time from trying to sleep to sleeping) were reported.
Side effects were transient and mild.
The bottom line?
Pediatric insomnia is common in children with ADHD. It affects academic performance, social functioning, overall health, and family life.
Once the diagnosis is made, melatonin helps regulate the child's circadian rhythm — the roughly 24-hour cycle in the biochemical, physiological, or behavioral processes.
Melatonin research results are limited by small numbers of patients studied; short duration of treatment and follow-up, and variable inclusion criteria; ADHD criteria; and treatment assessments.
Regardless, the authors concluded, "Available data suggest that melatonin is a well-tolerated and efficacious treatment option for pediatric patients with chronic sleep-onset insomnia and ADHD."
3/21/10 13:22 JR