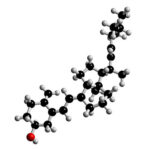 Vitamin D insufficiency has now reached epidemic proportions and so has the research on its wide ranging effects.
Here's the latest from researchers in Los Angeles and Montréal.
First, the details.
In 90 women 16 to 22 years, body fat distribution and blood levels of vitamin D (25OHD) were measured.
All were from California and have lots of opportunity for sun exposure.
And, the results.
Approximately 59% of the women were vitamin D insufficient (29 ng/mL or less).

Of these women 24% were deficient (20 ng/mL or less).

Lower vitamin D levels were significantly associated with a higher percent of muscle fat.
In contrast, there was no relationship between vitamin D blood levels and thigh muscle area.
The amount of abdominal fat did not affect the relationship between vitamin D and muscle fat.
Percent muscle fat was significantly lower in women with normal serum vitamin D blood levels than in women with insufficient and deficient levels.
The bottom line?
the authors concluded that vitamin D insufficiency is associated with increased fat infiltration in muscle in healthy young women.
These finding are important because skeletal muscle is crucial for about 80% of blood sugar disposal in the human body. Emerging evidence suggests that fat accumulation in skeletal muscle may be a major cause of insulin resistance and diabetes.
3/15/10 20:35 JR