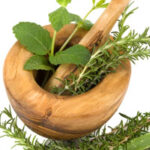 Duhuo Jisheng Tang "tones" the liver and kidney. It also tones Qi and blood.
I confess, I don't know what that means, but researchers from Taipei, Taiwan studied its safety.
First, the details.
In 71 patients with knee osteoarthritis, adverse events, complete blood counts, and liver and kidney function tests were measured.
Adverse events were rated for severity and whether they were caused by Duhuo Jisheng Tang.
And, the results.
There where 287 adverse events.
Duhuo Jisheng Tang did not contain detectable aristolochic acid (AA) based on thin-layer chromatography analysis and gas chromatography coupled with mass spectrometry (GC-MS).

The FDA has warned to avoid herbs containing the chemical aristolochic acid.

There were no significant changes in liver or kidney functions.
The bottom line?
There was no evidence of serious toxicity. However, confirmation of safety requires longer studies in much larger groups of patients.
Duhuo Jisheng Tang is a mixture of a lot of stuff. More about its use is summarized here.
2/12/10 19:46 JR