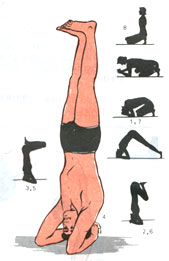 The sirsasana (stand-on-hand posture) was a problem for a patient with congenital glaucoma who had practiced this yoga posture for several years.
First, the details.
Ophthalmic examination included a battery of tests including intraocular pressure before, during, and after maintaining the sirsasana posture for 5 minutes.
And, the results.
Intraocular pressure increased significantly during the sirsasana posture.
The bottom line?
The authors warn, "Transient elevation in intraocular pressure during yoga exercises may lead to progressive glaucomatous optic neuropathy, especially in susceptible patients with congenital glaucoma."
In another case report, increased intraocular pressure was also associated with sirsasana.
More specifically, in a study of 75 people from a yoga training institute, there was a "uniform 2-fold increase in the intraocular pressure during sirsasana, which was maintained during the posture in all age groups irrespective of the ocular biometry and ultrasound pachymetry."
8/23/08 20:53 JR