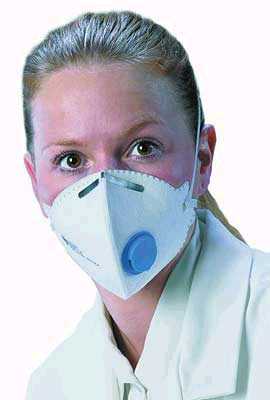 Researchers from McMaster University, in Hamilton, Ontario, compared surgical masks to the N95 respirator.
The N95 respirator is a respiratory protective device designed to achieve a very close facial fit and very efficient filtration of airborne particles. In addition to blocking splashes, sprays and large droplets, the respirator is designed to prevent the wearer from breathing in very small particles that might be in the air.
First, the details.
446 nurses in emergency departments, medical units, and pediatric units in 8 Ontario hospitals participated.
They were a assignment to either a fit-tested N95 respirator or a low tech surgical mask when providing care to patients with febrile respiratory illness during the 2008-2009 influenza season.
The researchers looked for differences in laboratory-confirmed influenza.
And, the results.
Influenza infection occurred in 24% of nurses who wore the surgical mask vs 23% of nurses who wore the N95 respirator.

The difference was not statistically significant
The bottom line?
One concern about the low tech surgical mask is its inability to obtain an appropriate seal compared with the N95 respirator. Yet, "based on the results of this trial, this concern does not seem to be associated with an increased rate of infection of influenza or other respiratory viruses." concluded the authors.
The low tech surgical mask was not inferior to the N95 respirator in preventing laboratory-confirmed influenza.
10/1/09 9:24 JR