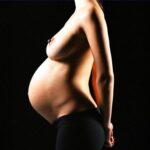 It's done so that stomach contents don't enter the lungs, which could cause complications during delivery.
But with the general anesthetic techniques available today, does this practice make sense?
This Cochrane review addresses the issue.
First, the details.
5 studies in 3130 women were reviewed and the data combined for a meta-analysis.

1 study looked at complete restriction vs eating and drinking at will.
2 studies looked at water vs specific fluids and foods.
2 studies looked at water vs carbohydrate drinks.

All studies looked at women in active labor and at low risk of requiring a general anesthetic.
And, the results.
When comparing any restriction of fluids and food vs some nutrition in labor there were no significant differences in the following outcomes.

Caesarean section
Operative vaginal births (a delivery in which the operator uses forceps or vacuum device)
Apgar scores less than 7 at 5 minutes

7 out of 10 or above on the Apgar test after birth is considered in good health.

In 1 small study there was a significant increase in Caesarean sections for women taking carbohydrate drinks in labor compared with water.
The bottom line?
The authors concluded, "There is no justification for the restriction of fluids and food in labor for women at low risk of complications."
No studies looked specifically at women at increased risk of complications. So, there's no evidence to support restrictions in this group of women.
Conflicting evidence on carbohydrate solutions means further studies are needed.
1/29/10 221:52 JR