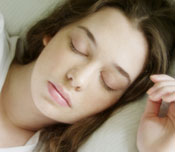 Dr. Desiree Lie from the University of California in Orange has reviewed the evidence for a range of conditions that are treated with melatonin.
Here are her thoughts on its use to treat insomnia.
Support for melatonin to improve sleep in healthy people
The results are based on the results from small studies at doses of 5 to 10 mg at night.
These studies tend to be poorly designed.
Results are based on short-term response.
Sometimes just a single-dose is given.
Often there is no effort to conceal what was given to study participants — not blinded.
There are few head-to-head comparisons with other sleep aids, so we don't know how melatonin compares.
The bottom line?
She concludes, "Better research on the effect of melatonin on sleep latency (time to get to sleep), duration, and sleepiness is needed."
As an update, I was unable to find a study of melatonin in patients with insomnia in the past 2 years.
9/29/08 22:15 JR updated 1/13/20 22:09 JR