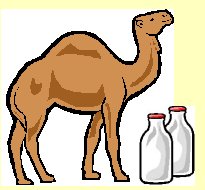 There's a traditional belief in the Middle East that regular consumption of camel milk may aid in prevention and control of diabetes.
Research conducted at Cairo University, in Egypt supports this belief.
First, the details.
54 type 1 diabetic patients (average age 20 years) were randomly assigned to a treatment group for 16 weeks.

Usual management (diet, exercise, and insulin)
Usual management + 500 mL of camel milk daily
And, the results.
After 16 weeks, the camel milk group showed improvement in the following parameters.

Fasting blood sugar
A1c
Serum anti-insulin antibodies
Urinary albumin excretion
Daily insulin dose (23 units with camel milk vs 48 units in the other group)
Body mass index

C-peptide levels were markedly higher in the camel milk group.

When the pancreas produces insulin, it releases C-peptide into the bloodstream.
The level of C-peptide is a gauge of how much insulin is being produced in the body.
The bottom line?
Most impressively, the daily dose of insulin decreased and A1c improved in the group treated with camel milk.
In 2002, researchers in India reported similar results. According to a study conducted at the Diabetes Care and Research Centre, SP Medical College Bikaner, a liter of camel milk contains about 52 units of insulin.
Normally, when insulin is taken by mouth it's broken down by stomach acid and rendered ineffective. Apparently, this doesn't happen (or happens to a lesser extent) to the insulin in camel milk, which permits the insulin to reach the intestines and be absorbed into the bloodstream.
5/23/09 18:16 JR