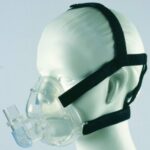 Apnea is a period of time during which breathing stops or is markedly reduced. The most common form is obstructive sleep apnea.
The researchers from the Karolinska Institutet, in Stockholm, Sweden report the results of their dietary treatment.
First, the details.
63 obese men with moderate to severe obstructive sleep apnea (apnea:hypopnea index (AHI) at least 15), were treated with continuous positive airway pressure (CPAP).

AHI (the ratio between no breathing and shallow breathing) greater than 30 is associated with an increased risk of death due to cardiovascular disease.

The treatment group received a liquid very low energy diet (2.3 MJ/day) for 7 weeks to promote weight loss, followed by 2 weeks of gradual introduction of normal food, reaching 6.3 MJ/day at week 9.
The control group adhered to their usual diet during the 9 weeks of follow-up.
And, the results.
At week 9, the diet group's mean body weight was 20 kg lower than the control group, while its average AHI was 15 to 30 events lower.
In the diet group, 5 of 30 (17%) were disease free after the energy restricted diet (AHI less than 5)

15 of 30 (50%) had mild disease (AHI 5-15)
The AHI of all patients in the control group except one remained at least 15.

The greatest improvement in AHI occurred in patients with severe obstructive sleep apnea — significantly greater vs moderate sleep apnea despite similar weight loss.
The bottom line?
The authors concluded it improved obstructive sleep apnea in obese men."
A good review of obstructive sleep apnea is on the eMedicine website.
1/15/10 20:36 JR