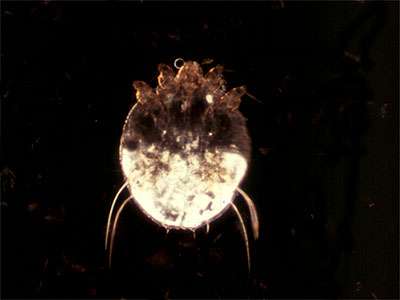 Scabies is a contagious skin disorder caused by a mite (photo) that burrows into skin and causes an itchy rash. Topically applied prescription drugs are effective but have side effects; and cost is an issue in developing countries.
Researchers at Obafemi Awolowo University, in Nigeria compared the response to Aloe vera vs benzyl benzoate (Ascarbiol).
First, the details.
In an open, non-comparative study, 5 patients with scabies were successfully treated with crude gel of A. vera.
That lead to the current study of 30 patients.

16 treated with A. vera
14 treated with benzyl benzoate lotion
And, the results.
Itching remained in 3 patients treated with benzyl benzoate vs 2 patients treated with A. vera after 2 courses of treatment.
The scabietic lesions disappeared in all patients.
None of the patients had noticeable side effects.
The bottom line?
Cure rates reported in clinical studies of scabies treatment range from 84% to 100% (based on review I wrote a few years ago on this topic). The key is to treat all people in contact with the patient, remove reservoirs of infection, and control environmental factors.
The results presented in this study are based on a small population, and the abstract is stingy with respect to details of treatment and content of  the gel.
A follow-up study in a larger group would be worthwhile. A placebo controlled study is probably not necessary.
Topically applied A. vera is not free of side effects, and future studies should focus on safety as well as effectiveness.
3/23/09 13:54 JR