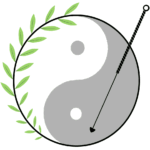 Not in this study, according to researchers in Japan.
First, the details.
56 healthy volunteers were assigned to receive acupuncture using a penetrating and non-penetrating needle.

The needle remained in place for 20 minutes.

A no treatment (control) was used for comparison.
Each person received painful 1-minute electrical stimulation in the forearm.
The response to the needling was measured before treatment and at various times after needle insertion and removal.
Neither the volunteers nor acupuncturist knew the type of needle used — double blind.
A numeric rating scale (0-150) was used to compare the response to acupuncture, with the baseline pain intensity (100) before the needle was applied.
Each volunteer received all treatments separated by 24 hours — crossover design
And, the results.
There was no significant difference in analgesia between the penetrating and non-penetrating needles.
There was no significant correlation between analgesic effect and de qi — dull pain associated with needle application, which is considered essential for achieving successful acupuncture analgesia.
Significant analgesia was observed during needle application and immediately after needle removal for both the penetrating and non-penetrating needle trials vs the no-acupuncture control.
The bottom line?
Simply stated, the authors concluded, "Needle penetration did not confer a specific analgesic advantage over non-penetrating (placebo) needle application."
This isn't the first time we've heard this story.
12/20/09 20:28 JR