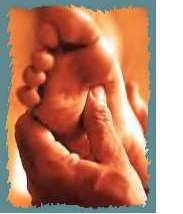 The results of this study suggest that any effect on ovulation would not be clinically relevant, according to researchers at the South Devon School of Reflexology in the UK.
First, the details.
48 women with the inability to ovulate were randomly assigned to 8 sessions of genuine foot reflexology or sham reflexology with gentle massage over 10 weeks.
The primary outcome was ovulation detected by a serum progesterone level greater than 30 nmol/L during the study.
And, the results.
The rate of ovulation during true reflexology was 42%.
During sham reflexology it was 46%.
Pregnancy rates were 4 out of 26 women in the true reflexology group and 2 out of 22 in the control group.
However, because of recruitment difficulties, the target sample size of 104 women needed to make reliable statistical analyses was not achieved.
The bottom line?
Although too few women were recruited, the results, say the authors, "suggest that any effect on ovulation would not be clinically relevant." However, on the positive side, the authors found that patient blinding in reflexology studies is feasible.
The results differ from the commonly held view that reflexology can "help you have a baby." In addition to anecdotal reports, support for this comes from a 1994 study in Denmark, which I can't find and nobody seems to reference.
The story, which is passed down from website to website, is that 108 women diagnosed as infertile for at least 2 years and no previous children were treated with reflexology. A whapping 44% of these women dropped out before the end.
Nine of the remaining women (15%) became pregnant after 6 months, and all of the other women who had menstrual or ovulation abnormalities, "completely recovered from their symptoms."
Interesting, but in the absence of a placebo group it's not possible to tell if the results happened by chance. It's also not possible to know if the changes occurred as a result of other treatment the women received.
And why did so many women stop participating?
6/25/08 17:59 JR