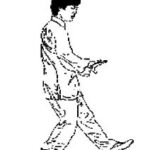 Researchers from the University of Sydney, in Concord, Australia compared qigong to usual care.
First, the details.
162 patients with a range of cancers were recruited to receive medical qigong compared with usual care.

Medical qigong involves chi exercises combined with visualizing.

Quality of life and fatigue were measured by Functional Assessment of Cancer Therapy-General and -Fatigue, respectively, and mood status by Profile of Mood State.
A marker of inflammation, C-reactive protein (CRP), was monitored.
And, the results.
Medical qigong significantly improved overall quality of life, fatigue, mood disturbance, and inflammation (CRP) compared with usual care after controlling for baseline variables.
The bottom line?
The authors concluded that medical qigong can improve cancer patients' overall quality of life and mood status.
11/3/09 21:35 JR