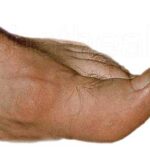 That's the finding by researchers from Boston University School of Medicine reported during the American College of Rheumatology annual meeting.
First, the details.
535 adults with gout who had an attack in the past year were recruited over the Internet.
They were asked to provide access to medical records pertaining to their gout diagnosis.
Data were obtained on the amount of water consumed during the day before a gout attack and during periods when they were not having an attack.
The relationship between the amount of water consumed — recorded as zero to 1, 2 to 4, 5, to 8, and more than 8 glasses per day — and the risk of recurrent gout attacks were evaluated.
And, the results.
Those who drank 2 to 4 glasses of water a day tended to reduce their risk of gout attack by 18% — not significant compared with the lowest water consumption level.
Those who drank 5 to 8 glasses of water a day achieved a 43% reduction in gout attacks, and drinking more than 8 glasses of water a day achieved a 48% reduction in gout episodes — a significant difference vs the lowest water consumption.
The bottom line?
According to the authors, "Drinking adequate water may be a simple, safe, and effective way for individuals with gout to prevent recurrent gout attacks, and can easily be recommended to patients with gout by healthcare providers."
10/25/09 22:57 JR