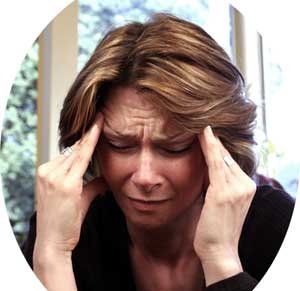 Migraine headaches are associated with symptoms of depression, anxiety, and low self-efficacy.
Spiritual meditation helps ameliorate these traits, according to researchers at the University of Massachusetts Medical Center in Worcester.
First, the details.
83 frequent migraineurs were assigned to learn 1 of the following.

Spiritual meditation: meditating to "God is love," "God is joy," "God is peace," and "God is good."
Internally focused secular meditation: meditating to "I am happy," "I am joyful," "I am good," or "I am content."
Externally focused secular meditation: meditating to "Cloth is smooth," "Grass is green," "Cotton is fluffy," or "Sand is soft."
Muscle relaxation

They practiced 20 minutes daily for a month.
Pain tolerance (placing a hand or forearm in cold water), headache frequency, and mental and spiritual health variables were measured before and after the study.
And, the results.
Compared to the other 3 groups, those who practiced spiritual meditation had greater decreases in the frequency of migraine headaches.
They also benefited from less anxiety, and negative affect, as well as greater increases in pain tolerance, headache-related self-efficacy, daily spiritual experiences, and existential well-being.
The bottom line?
According to the researchers, "Previous studies have indicated that individuals with faith in a benevolent higher power handle stress of any type better, and so the spiritual meditation techniques chosen may have helped the participants tap into these feelings."
The researchers discussed several reasons for this. "The sense of trust implicit in religious faith appears to serve as an immediate 'stress-buster' when an individual focuses on it. Spiritual meditation also appears to boost an individual's internal sense of confidence and control, thus impacting their ability to respond to both stress and pain."
An earlier study supports these findings. When comparing spiritual meditation to secular meditation, and relaxation on spiritual, psychological, cardiac, and pain outcomes, the "spiritual meditation group had greater decreases in anxiety and more positive mood, spiritual health, and spiritual experiences… They also tolerated pain almost twice as long as the other two groups."
12/20/08 20:52 JR