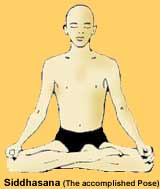 Here's a summary of the report from the Society of American Gastrointestinal and Endoscopic Surgeons 2008 Annual Scientific Session.
Researchers from Sir Ganga Ram Hospital in New Delhi, India report that mool bandh bowel-strengthening yoga exercises following stapled hemorrhoidectomy may lessen the occurrence of adverse reactions.
First, the details.
70 patients who received hemorrhoidectomy received instruction in mool bandh yoga or were assigned to the control group with no yoga instruction.
Only mool bandh exercises were taught.
No yoga teachings having to do with serenity and meditation were provided.
And, the results.
By 2 weeks after surgery all patients in the yoga group could discriminate between feces and flatus vs 19 patients (38%) in the control group — a significant difference.
After the 3rd week, 12 patients in the control group were still experiencing this problem.
Painful defecation was experienced by 5 patients (10%) in the yoga group after the second week vs 20 patients (40%) in the control group — a significant difference.
After the third week, the numbers were 0 and 5 cases, respectively.
No patients in the yoga group took pain medicine stronger than acetaminophen (Tylenol).
Patients in the control group used nonsteroidal anti-inflammatory drugs (NSAIDs).
The bottom line?
Mool Bandh is the squeezing of muscles and nerves of excretory system — both anus and urinary track. Photos and a description are here.
It appears that mool bandh yoga for 3 weeks after stapled hemorrhoidectomy was associated with significant improvement — compared with no yoga — in the ability to discriminate bowel from flatus urge. Mool bandh yoga was also associated with a lower incidence of painful defecation as measured by the use of pain medication.
4/22/08 21:22 JR