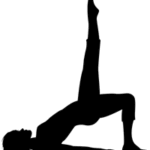 Researchers from the University of Miami, in Florida report their experience.
First, the details.
22 adults with no experience in Pilates were assigned to a treatment group.

8-week traditional mat Pilates program that met 1 hour/day, 3 times/week
A control group

Pilates classes consisted primarily of beginner and intermediate level exercises.
And, the results.
The Pilates group showed significantly improved in several areas.
Relative body fat (-1.2%)
Sit-and-reach (+7.5 cm)
Shoulder reach (+6.9 cm)
Curl-up (+14 reps)
Low back extension (+7 reps) scores
Waist circumference (-2.7 cm; 1.1 inch)
Chest circumference (-1.7 cm; 0.7 inches)
Arm circumference (-0.5 cm; 0.2 inches).
There were no changes in the control group.
The bottom line?
There were significant differences between the group for curl-ups and low back extensions at the start of the study. Therefore, it's not possible to accept these reported differences.
However, based on the available data, the authors concluded, "Muscular endurance, and flexibility significantly improved after 8 weeks of traditional mat Pilates."
An earlier study by these researchers reported significant improvement in physical fitness: body composition, flexibility and muscular endurance.
10/13/09 22:14 JR