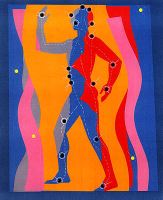 That's the conclusion from reviewers at the Nordic Cochrane Centre in Copenhagen, Denmark.
But a flaw in the review raises doubt about the validity of their findings.
First, the details.
13 studies in 3025 patients involving a variety of pain conditions were eligible for review.
Allocation of patients was adequately concealed in 8 studies.
The clinicians managing the acupuncture and placebo acupuncture treatments were not blinded in any of the studies.
One clearly outlying trial (70 patients) was excluded.
And, the results.
There was a small difference between acupuncture and placebo acupuncture corresponding to 4 mm on a 100 mm visual analogue scale.
There was a moderate difference between placebo acupuncture and no acupuncture, although the studies used for this comparison were very different, making any conclusion difficult.
There was no association between the type of placebo acupuncture and the effect of acupuncture.
The bottom line?
The authors concluded, "A small analgesic effect of acupuncture was found, which seems to lack clinical relevance and cannot be clearly distinguished from bias."
However, the authors of an accompanying editorial point out that the analysis included "such a broad range of pain conditions that it cannot directly inform clinical decisions about patients with particular conditions."
Indeed.
Here are 5 summaries from the past year. Acupuncture was found effective for tension-type headache, myofascial trigger points and pain syndrome, and low back pain. But not for arm pain for repetitive use,  or pelvic girdle pain in pregnant women.
1/29/09 19:26 JR