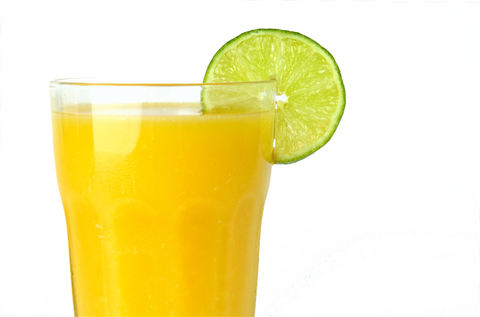 Ever heard someone say that drinking fruit juice is no better than drinking sugar water, and it just makes you fat?
Researchers from Louisiana State University in Baton Rouge and Baylor College of Medicine in Houston, Texas say there's no association between consumption of 100% fruit juice and overweight in children or adolescents.
First, the details.
The authors reviewed 21 studies: 9 cross-sectional, 12 longitudinal.

In cross-sectional studies a population is assessed at one point in time.
A longitudinal study follows the same group over a period of time.
And, the results.
Only 3 of 9 cross-sectional studies reported any association.
One found that preschool children consuming at least 12 fluid oz/day of 100% fruit juice had a higher prevalence of overweight than those who consumed less than 12 oz/day (32% vs 9%).
A subsequent study showed that this relationship held only for apple juice.
Only 3 of the 12 longitudinal studies showed an association between 100% fruit juice and weight: 1 in adolescent girls, and 2 in children already overweight.
The bottom line?
The problem with the research in this field is that the populations studied tend to be small, and the critera of selection is weak. Also, there is no attempt to generate results that can be generalized to the rest of the US.
Based on the evidence, the authors concluded, "There is no systematic association between consumption of 100% fruit juice and overweight in children or adolescents. Data do support consumption of 100% fruit juice in moderate amounts."
In order to get the full benefit of the vitamins and nutrients from the fruit, the label on the container must state "100% Pure" or "100% Juice."
The distinction from other terms can be tricky to recognize. For example, "100% real juice" means only that regardless of the amount of juice in the product, what's there is real. Labels that read "100% natural'" mean nothing.
Food products always carry a list of ingredients in order of predominance. The easiest way to determine whether a product is 100% juice is to read that statement.
5/24/08 14:18 JR