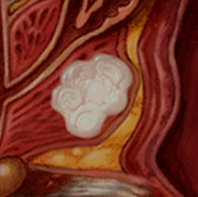 Genetics appear to influence the risk of aggressive prostate cancer in men taking selenium supplements, according to collaborators at cancer centers across the US.
First, the details.
The records from 489 patients with localized or locally advanced prostate cancer were reviewed.
The researchers measured the level of selenium in their blood and their SOD2 genotype — the specific form of the SOD2 gene carried by each patient.
Associations with aggressive prostate cancer (stage T2b-3, prostate-specific antigen greater 10 ng/mL, or biopsy Gleason score at least 7) were evaluated.

More on staging prostate cancer is here.
And, the results.
Among all patients, SOD2 gene alone was not associated with disease aggressiveness.
Among all patients, higher selenium blood levels were associated with a slightly increased likelihood of presenting with aggressive disease.
There was evidence of an interaction between SOD2 and selenium levels.
In men with the AA SOD2 gene, higher selenium levels were associated with a 40% lower risk of presenting with aggressive disease.
In men with the VA or VV SOD2 gene, higher selenium levels were associated with almost a 2-fold greater risk of aggressive disease.

The differences between AA SOD2 and VV or VA SOD2 were significant.
The bottom line?
The authors concluded, "These data suggest that the relationship between circulating selenium levels at diagnosis and prognostic risk of prostate cancer is modified by SOD2 genotype and indicate caution against broad use of selenium supplementation for men with prostate cancer."
It appears that people with the VA or VV SOD2 gene would be better off not taking selenium, while men with AA SOD2 might benefit.
The patient information used in this study was based on what was previously recorded in medical records and previously drawn blood samples. Therefore, it's not known for sure whether any of these men were taking selenium supplements.
Regardless, the results are important because they add to the growing research that is documenting a genetic influence on the response to taking supplements.
Currently, it's unlikely the average patient has access to their genetic information. However, this may change as more genetic research is conducted, and we find that much of the inconsistent and contradictory information about herbals and supplements is related to the genetic makeup of the people being studied.
Earlier studies have already documented the influence of genetics on the response to taking vitamin E by diabetics.
7/3/09 16:05 JR